Carpet Cleaning
At Burris Cleaning, our passion is Client Satisfaction. To prove it, we offer a money-back guarantee onall of our services.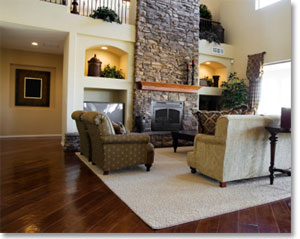 We measure and inspect all articles to be cleaned to give you an accurate price. We also provide you with literature that offers you a step by step list of our procedures. If you ever have any additional questions, please don't hesitate to ask.
We explain what types of results you can generally expect from our cleaning, given the age, wear and fiber content of the articles to be serviced.
We pretreat all open areas to aid in soil release and removal, giving special attention to stained and "problem" areas. Proper pretreatment allows a more thorough cleaning. We pride ourselves in using the latest industry technology and chemistry.
*OUR PRETREATMENTS CONTAIN NO SOAPS OR DETERGENTS, and there are NO SURFACTANTS of any kind in our primary cleaning process.
We work all pretreatments and cleaning agents into carpets, as this maximizes the effectiveness of pretreatments, allowing for better soil suspension.
The Cleaning Itself
Though we're experienced and trained in all methods of carpet cleaning, our chosen and primary residential method is the only method specified by name by one of the largest carpet manufacturers in the world to maintain their manufacturers warranty. The cleaning itself will be done utilizing a patented high- flow extraction system that has been thoroughly tested, and has out- performed all other methods we tested it against. You may have heard this method referred to as hot-water extraction or steam cleaning.
Our system uses a 100% Clear Water Rinse; no detergents or chemicals! This leaves your carpets much cleaner and softer than ANY other cleaning method.
We then go over the areas cleaned and perform a post-cleaning spotting with our arsenal of specialty spot and stain removers. Keep in mind that even with the best efforts, not all spots are removable based on fiber content, spill content and prior removal attempts.
We groom the areas cleaned, to leave you with that "just installed" look, and leave you with 2 pairs of protective booties to keep your feet dry for the short time your carpet may be damp. They are generally dry to the touch when we leave and completely dry within 24 hours.
We offer a 100% Money-Back Satisfaction Guarantee!
"Our Passion is Client Satisfaction!"
burriscleaning@gmail.com • CALL 585.589.1754 TODAY!